MARANACOOK AREA SCHOOLS/RSU 38 DISTANCE LEARNING RESOURCES
We recognize that all of our families will be in situations that may make remote learning uniquely challenging.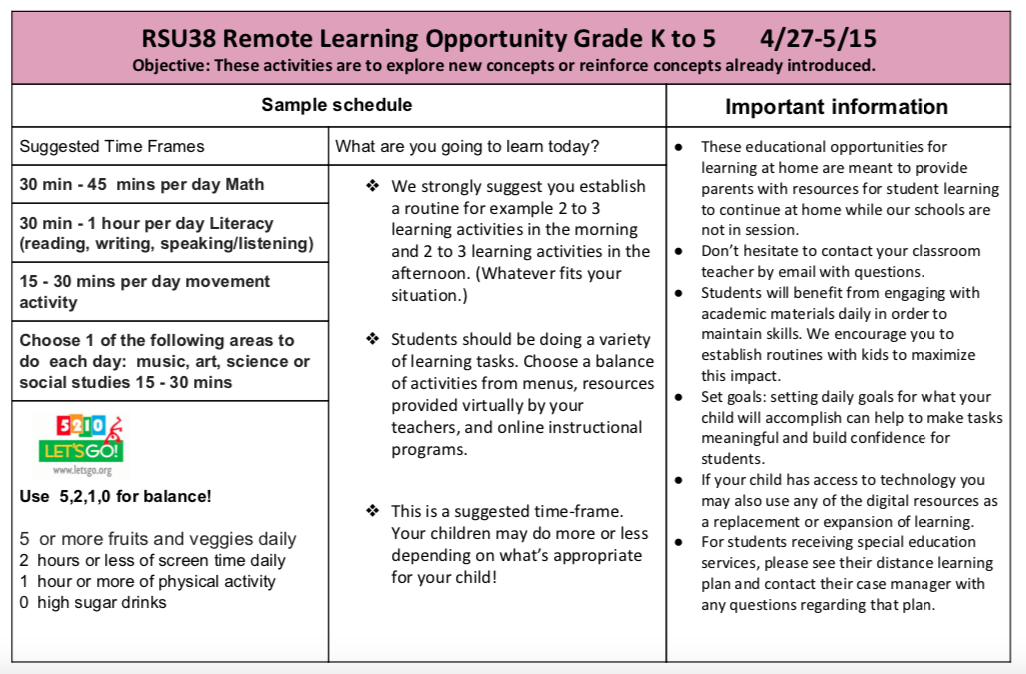 Dear Families,
On Monday, Tuesday, and Wednesday of this week, teachers worked via video conferencing across the district to create our last round of Remote Learning for all four elementary schools in grades PreK - 5. This last round will be for the dates of May 18th through June 5th. On Monday, May 18th, you should receive an email link from teachers with a newly revised menu. The links for the menu will also be available on the district website. The new plans for these menus include projects for Science or Social Studies. Our learning menus for Round 2 and for this final Round 3 will go out digitally for several reasons; to increase the types of learning materials for families and for the safety and well-being of all of our staff and the community. As you know, our school buildings remain closed at this time. This follows the recommendations and advice of the Department of Education, the Maine CDC, and the Governor's office on the closing of our facilities and how best to provide remote learning opportunities for all students. For these reasons, paper copies will not be provided to families.
While you are working at home, continue to email teachers your questions regarding our remote learning menus and any links that they may have provided as well as any questions with Dreambox, Lexia, or eSpark programs. Teachers and specialists will continue to be available from 9-2 to support you with your questions. Also, many teachers hold weekly check-ins and Zoom meetings to touch base with your child and the whole class so please take advantage of these opportunities. We understand and know that everyone is working to the best of their abilities during these rapidly changing and challenging times.
PRE-K TO GRADE 5 UPDATED DETAILS
These menus include updated literacy, math, and unified arts activities, as well as science and social studies from April 27th through May 15th. Each menu still offers engaging lessons that do not rely on the use of technology. However, instead of work focused solely on maintaining skills, some activities now expose students to new concepts.
To help support your child in this new learning, we have added additional online instructional programs: Dreambox for math and Lexia for kindergarten and first-grade and eSpark for students in grades 2-5 for literacy. Directions for accessing these programs are located under the Instructional Technology page. Your child's classroom teacher will be providing you with the username and password and other specific login information for the above programs. Your child will have access to these resources for the remainder of the school year. With regular use, your child will also receive feedback on his or her progress, from the classroom teacher(s).
We are incredibly aware that remote learning can not begin to replace teacher to student instruction. And we realize households are busy and struggling with scheduling computer time and parent support needed for learning. So again, we ask you to Simply Do Your Best. Whatever schedule works for your family will still benefit your child. Keep the time frame of daily/weekly learning in line with the menu plans, less is more! Although, we will always advocate for reading! Teachers and staff will continue to make connections with students and families.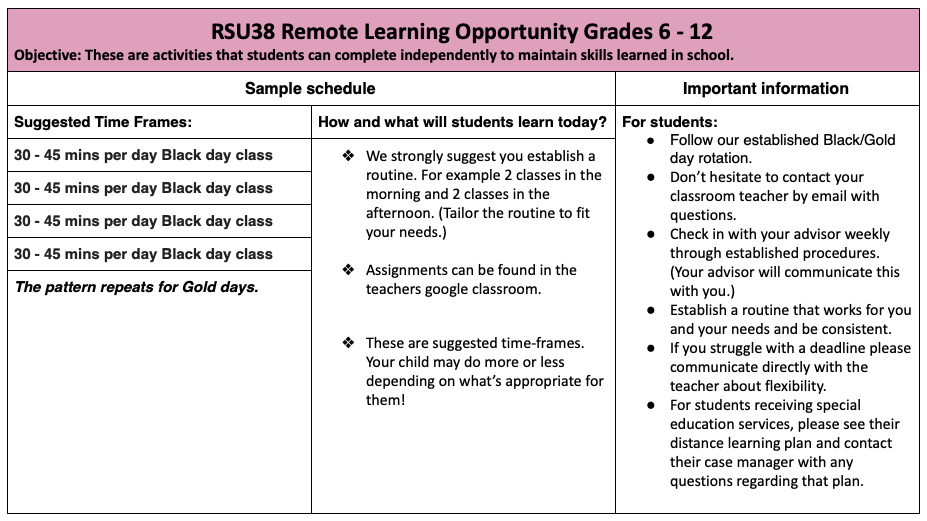 GRADE 6 TO GRADE 12 DETAILS:
Middle and high school teachers will create and post lessons in Google Classroom
Students will complete work for their regularly scheduled classes (Black/Gold) for the Remote Learning Day.

Lessons and assignments will be uploaded to Google Classroom by 9:00 a.m. on the appropriately colored day and teachers and staff will be available by virtual means (email and/or Google Classroom) until 2:00 p.m. if students have questions. Teachers are including office hours for added support and to keep in contact with students.

Students are expected to submit Remote Learning Days assignments on or before the next same colored day (Black/Gold). If students cannot access the online material they need to check in with their teachers before the next scheduled class.
Maranacook Area Schools/RSU #38 technology staff will offer limited support for hardware, software, and account-related issues. Students/staff may email their questions or problems to techsupport@maranacook.com
CONTACTING PROFESSIONAL STAFF
The following is information to assist in communication with our professional staff:
All teachers are available 9:00 am to 2:00 pm via email. Questions outside that time will be returned within 24 hours unless it is the weekend. In grades 6 - 12 teachers may offer online office hours through google classroom.

We have asked advisors at grades 6 thru 12 to reach out to their advisees at least once weekly to offer support. This may be done through email, phone calls, or google classrooms.
A. Elementary level (PreK to Gr 5) teachers will reach out through established procedures which may include phone or email and may include digital platforms such as class dojo or seesaw.
B. School Counselors can be reached by email between the hours of 9am and 2pm. Questions outside that time will be returned within 24 hours unless it is the weekend. Online platforms will be used for individual meetings that are appropriate for the grade level. Elementary Counselors will reach out to parents prior to a meeting. Any parent who would like to opt their child out of participation in virtual counseling through Google Hangout/Meet should notify their school's principal. Google Classroom will be used by middle school and high school Counselors. If a student is in crisis, parents or students should call the crisis hotline at 1-888-561-1112 or 911. All mandated reporting protocols will be followed.
C. Counseling through KBH or Health Affiliates Maine: If your child has ben receiving in school counseling with a therapist through KBH or Health Affiliates Maine, please contact your child's therapist to discuss options for continuing that service through the school closure.
D. School nurses can be reached by email between the hours of 9am and 2pm. Outside of those times, any medical questions should be directed to your child's primary care provider or if an emergency, call 911.
E. Special Education - Please reach out to your child's case manager, related service provider or classroom teacher with specific learning plan questions. If you have other questions regarding meetings, district plans or anything else related to special education, please contact Nicole Fyfe or Ryan Meserve at the Special Education Office (685-3336x6, nicolefyfe@maranacook.com or ryanmeserve@maranacook.com). Email is the preferred method of contact at this time.
F. Literacy and Math Interventionists and Teachers for Gifted and Talented are also planning ways to support students and their families. These teachers are an important part of students' learning support system at school and want to provide assistance in whatever way will work for each student. Interventionist and GT teachers are available via email. In addition, teachers may contact families directly to assist with support for the student.
We will continue to provide breakfast and lunch at Mount Vernon Elementary School from 7:00 to 9:00 am on Monday and Wednesdays. Two breakfast and lunch meals will be provided on Monday and three breakfast and lunch meals will be provided on Wednesdays.
UPDATE 4/3/2020:
We are pleased to announce that Maranacook Community High School has been added as an official meal pick up site and it will begin operation open Monday, April 6. (Mount Vernon Elementary School will continue to remain a meal pick up site.) Meals can be picked up between 7 and 9 am on Monday and Wednesday. This site can be accessed by All of our communities: Manchester, Readfield, Mount Vernon or Wayne as well as Fayette. We are now able to help students and families that may not be able to get to the sites for pick up. If you or someone you know needs a meal but can not pick it up please contact a building administrator and we will work with you to deliver the meals.
If and/or when a further closure is announced we may modify these plans if a change is needed.
Please note this plan will run through the remainder of the school year ending on June 19, 2020 or through the duration of an extended closure for school year 2019 - 2020.