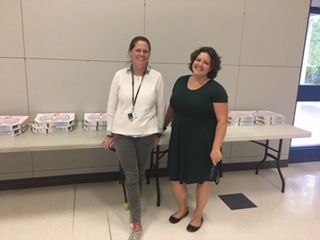 Mt. Vernon Family Math Night!
Janet Delmar
Friday, October 04, 2019
We had a great turnout of over 50 people for our Family Math Night at Mt. Vernon Elementary School! After dinner and a math game, Mrs. Shink, our District Math Coach, and Mrs. Hatt, our K-5 Math Interventionist, asked families to think about what it means to them to "do math." Both students and adults shared their ideas, and then we had a chance to do some math together. Families also got to take part in a lesson from the new K-5 IM curriculum that our district is piloting. Each student who works with Mrs. Hatt got to take home a game to play with their families. It was a wonderful evening!