January 17, 2022
Dear Staff, Students, and Families,
This letter is to update covid case information from noontime on Monday, January 10th thru Monday, January 17th at approximately 3:00 pm. (Updated info now available, please review chart.) Counting the tentative number we have had 66 student positive cases reported in approximately 8 days, including positive staff this rises to 74.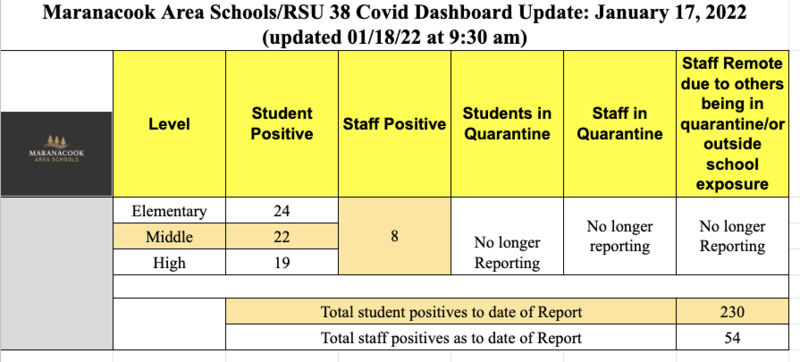 At this time the decision has been made to send Manchester Elementary School AND Maranacook Middle School remote for Tuesday, January 18 and Wednesday, January 19th. We will evaluate the evolving situation at each school and make a decision about the rest of the week by 2:00 pm on Wednesday.
Any students/families that need food service please reach out to Jen Hall, Food Service Director. She can be reached through email at: Jen_Hall@maranacook.com, work phone at (207) 685-4923 ext. 1085 or cell phone at (207) 242-0814. Individual arrangements will be made to best facilitate the families needs. Please reach out at your earliest convenience.
At this time Wayne Elementary, Mount Vernon Elementary, Readfield Elementary and Maranacook High Schools will continue to run as scheduled.
As we have asked in the past, it is vitally important that you communicate with the school nurse around symptoms, testing, and exposure to positive cases (in and outside of school). Your assistance is needed moving forward to continue to keep our schools open to in person learning.
Finally, as many of you are aware the Maine released an updated Standard Operating Procedure that has eliminated contact tracing temporarily and reduced isolation time. At the end of the 5 days of isolation for positive students we are recommending a negative test before coming back to school. A continued positive test will result in an additional 5 days of isolation. Please reach out to your building nurse for help scheduling a test before the return to school. At this time I strongly recommend that everyone act as if they have been exposed. It is the reality of the situation as we navigate this spike in cases. Wear a mask correctly, practice hand hygiene, and socially distance as much as possible. We will make it through this latest wave with everyone's continued vigilance. Thank you.
Sincerely,
Jay Charette
Superintendent of Schools